#10 x 1-1/2" Stainless Steel Wood Screws Flat Head Slotted Countersunk Qty 250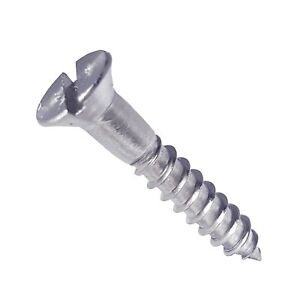 ---
#10 x 1-1/2" Stainless Steel Wood Screws Flat Head Slotted Countersunk Qty 250

These Slotted flat wood screws are a 18-8 stainless steel with rolled threads. Rolled threads have a constant shank diameter that tapers at the point. Wood Screws are a thread forming screw with a coarse pitch thread. Flat Heads are countersunk allowing the fastener to sit flush into the wood surface they are screwed into.
General Product Information
Head Style : Flat Drive Style : Slotted Thread : #10 Overall Length : 1-1/2" Material : Stainless Steel 18-8 Quantity of Fasteners in Package : 250
Detailed Product Information:
Head Diameter : 0.385" Head Height : 0.116" Thread Diameter : 0.190" Coarse or Fine Thread : Thread Coverage : Partial Thread Thread Length : 1.000
Key Notes:
Stainless steel wood screws with a slotted drive that have deep coarse threads and are specifically designed for use in wood projects Slotted drive is the most basic and simple drive design as it is just a straight groove along the head making this style very easy to use and in contrary to popular belief these heads will not strip when the proper bit is used Slotted wood screws are an excellent choice for the future maintenance of a project that could be potentially covered with paint or other coatings giving an easy option to clear the slot to unfasten Flat head wood screws have a flat top that tapers down to a cone shape that will sit flush into a countersunk hole and give a finished appearance and an 82 degree countersink which is the most common countersunk screw head angle Made of high quality stainless steel grade 18-8 which provides a superior corrosion and checmical resistance in comparison to plated fasteners; stainless steel will extend the life of your project while standing up to the elements
Shipping:
All orders placed before 3:30 pm EST Will Ship Same Day Tracking is provided on ALL Orders Priority Mail Shipping service is offered at a discount of only $3.95 UPS Ground UPS Next Day Air is available, Please inquire for pricing
Returns :
ALL returns are accepted if returned within 60 days. Money Back or exchange guaranteed. NO Restocking Fees.
For YOU, we constantly strive to find ways of improving our performance.